Names of a number of Israeli terrorists who committed murders and crimes against Palestinians, receiving financial support and legal protection from the State of Israel.
Many of them were convicted and sentenced to life imprisonment for murdering Palestinians, but they spent only a few years (5-7) in Israeli prisons, as the law was justified and given amnesty even before they entered prison:
Jewish underground organization, which had 27 members, mostly former Israeli army officers, were convicted in 1984 of security and terrorist charges, such as bombing houses and cars of heads of municipalities like Bassam Shak'a, Karim Khalaf and Ibrahim Tawil. They also attempted to explode the Dome of the Rock and murdered three university students at Hebron University, and were convicted of cxploding 19 of Halhul and Bethlehem buses. They were headed by Yehuda Etzion, Yitzhak Nir), Menachem Livni, NatanNatanzon, Israel Zach and others.
A number of them were sentenced to life imprisonment while others ranged from 3 to 15 years, additionally, during their stay in prison they received monthly allowances (according to the law) by social affairs and national insurance. Where are they now? Three of them work in the Prime Minister Office and another one works as an advisor to the minister (Nathalie Bennett), he isNatanNatanzon, Yehuda Etzionestablished the Third Temple Society and he still serves as its chairman. Some of them have become heads of regional councils or councils in the settlements.
Danny Eizman, Michal Hillel and Gil Fox were convicted in 1985 of kidnapping and killing a Palestinian driver (KhamisTotnigi) and sentenced to life imprisonment. They were released after 5 to 7 years, during which they received aid and allowances from national affairs and insurance.
David Ben Shimol, had fired a Lao missile at a Palestinian bus, killed one person, and wounded dozens. He was sentenced to life imprisonment but released after less than 10 years.
Ami Popper killed Seven Palestinians and injured 12 others. He was sentenced life imprisonment for seven times. He got married three times while he was in prison. He has six children. He spends most of his time outside the prison and receives three regular monthly salaries from affairs, insurance and Honino charitable society.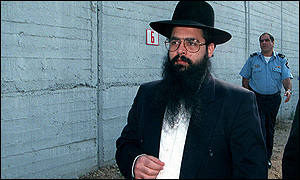 Ami Popper
Ze'ev Wolf and GershonHerszkowicz threw a grenade at a cafe in Jerusalem. One Palestinian was killed and 20 others were injured. They were released after six and a half years. They were and still receiving their rights from Affairs and Insurance.
YoramShkolnik killed an Arab blindfolded and handcuffed worker who was arrested by the Israeli army a few minutes earlier. He was sentenced to life imprisonment and 10 years. He was released after seven and a half years in which he received a monthly salary from national affairs and insurance. He received government assistance to open an economic project.
Nahshon Waltz killed a Palestinian woman working in private olive field. He was sentenced to life imprisonment but was released after 11 years, during which he received monthly salaries from Affairs and Insurance. He now works as a security officer in a settlement.
Bat Ayin terrorist organization, a number of its members were convicted of placing a bombed in a girls' schoolyard in Jerusalem in 2009. Some of its members are still receiving allowances from the National Insurance and Social Affairs, in addition to allowances from settlement associations, mostly from Il-A'ad.
YoramShtenhil, who burned the Duabshah family and killed the parents of the child, is still in prison receiving allowances from Affairs and Insurance, as well as a monthly salary from Honinu organization. Since his arrest, he has received about NIS 600,000 in a year according to Israeli newspapers.
Yigal Amir killed the Prime Minister (Rabin), sentenced to life imprisonment and he is still in prison. He got married in prison and had a child, he and his wife receive allowances from Affairs and Insurance and generous donations from right-wing extremist groups.
The soldier EliorEzrai, who killed the martyr Sharif in Hebron. Although he was convicted of murder, he was sentenced to only a year and a half. He receives his salary from the army and a charity was establishedon his name, which is run by his father,this association collected donations of more than 8 million shekels.
J-b. Ehud Yatom, the former Shin Bet deputy, killed three Palestinians after hitting their heads with stones, (they had kidnapped the Deir al-Balah bus, the Shin Bet scandal). Hewas convicted along with three of his colleagues, Shimon Malka and Yossi Genusar, but theydid not enter the prison in advance because of a prior amnesty from the Head of State.They received all their allowances from the apparatus, Ehud Yatomis a well-known arms dealer who became a millionaire, and Yossi Genasur  was appointed as an adviser to the Prime Minister Yitzhak Rabin.
J-c. The association receives a direct government budget of 6 million and a half shekels a year, in addition to support from semi-official associations (right-wing associations and organizations of settlers, as well as external donations). The association supports the families of Israeli terrorists, – tag price- through monthly salaries.
J-d. Dr. Goldstein Society, who killed 29 Palestinians in Al-Ibrahimi Mosque in 1994, this society works to commemorate his name as a national hero and receives direct and indirect support from the government.
J-e. RehavamZe'evi Gandhi society, he is a Knesset member and former minister who was killed by a group of the Popular Front, was an extreme right wing and he had the idea or theory of transfer to the Arabs. He is considered the heir to Kahane. This society receives official allowances from Netanyahu government.