The former head of the Meretz party, MK Tamar Zandberg, justified the settlers' storming of the courtyards of the Haram esh-Sharif, saying that Jews have the right to practice their religious rituals in Al-Aqsa Mosque.
"Jews have the right to pray at the Temple Mount, the holiest place in their faith," Zandberg tweeted in her official Twitter page.
She added that this right was taken away from the Jews "because of a long-term national religious conflict."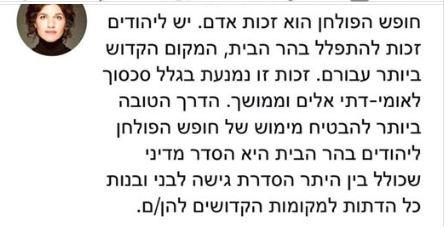 while Zahava Galon, Meretz member that lead the party before Zandberg  tweeted:"I support the right of Jews to pray at the Haram esh-Sharif, but I think that there should be a discrimination between the  right and the  consciousness to practice this right. specially  in  an explosive political and religious situation" .