In a recent report titled "From The Occupation to Apartheid", the Israeli Peace Now movement reviewed the most significant changes in the legal status of the occupied Palestinian territories (West Bank) and settlements built there in the last 10 years, during which Benjamin Netanyahu was the Israeli prime minister Israeli conflict.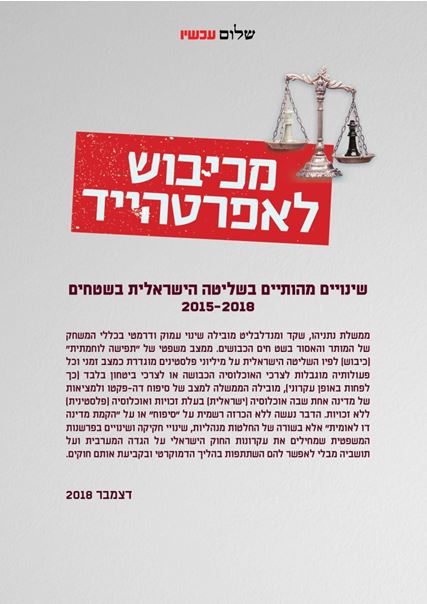 The government set up "Edmond Commission" to find ways to contribute to the development of settlements and settlement outposts.
This change has escalated under Netanyahu's current government, the appointment of Ayelet Shaked as Minister of Justice, and Effihai Mandelblit as a legal adviser. The coalition agreement in July 2015 included the establishment of a team to legitimize settlement outposts.
Ayelet Shaked also appointed attorney Amir Fisher, a representative of a settlement association that is responsible for implementing the building and planning laws against the Palestinians, as a special adviser to the settlements.
This trend was developed by the Knesset enacting the law of confiscation called the "Settlement Law" to legitimize the looting of Palestinian land, carried out by Israeli settlements and outposts.
The report considers these positions to be an additional step to the actual annexation of the occupied territories to Israeli sovereignty and the normalization of the settlements and their de facto transfer to be part of Israel without declaration.
The report concludes that this policy is the product of a decade-old government led by Netanyahu, which created an atmosphere of pressure on the judiciary to respond to demands for settlement expansion, land confiscation and a reduction of the Palestinian presence in Area C.