Such remarks bear all meanings of racism and incitement, and deny the ideal of peace. These remarks were spoken by Netanyahu's Political Advisor Reuven Azar, deputy of the national security Council, during his participation in the Christian Media Conference held in the occupied Jerusalem. He spoke about the importance of the Jewish settlement in the occupied West Bank.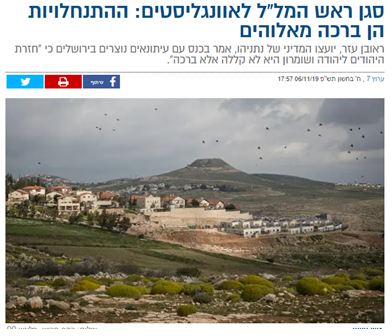 Azar said that "Return of Jews to the West Bank is not a cure, but a blessing to residents of the region". he added that "calls to evacuate settlement are not justified, but bring chaos and destructon".
He also said that "Resurrection of the Jewish people in the country of Israel is a fulfillment of a divine promise".
He continued calling the "evangelical" media to counter those who call for evacuation of West Bank settlement under the pretext of being illegal or violating the international law.
He also claimed that Palestinian are corrupt and can't practice rule and control.