A report by Haaretz newspaper about eviction orders issued by the occupation state shows that Israel is demanding further Jordan Valley lands, as annexation looms more than anywhere else.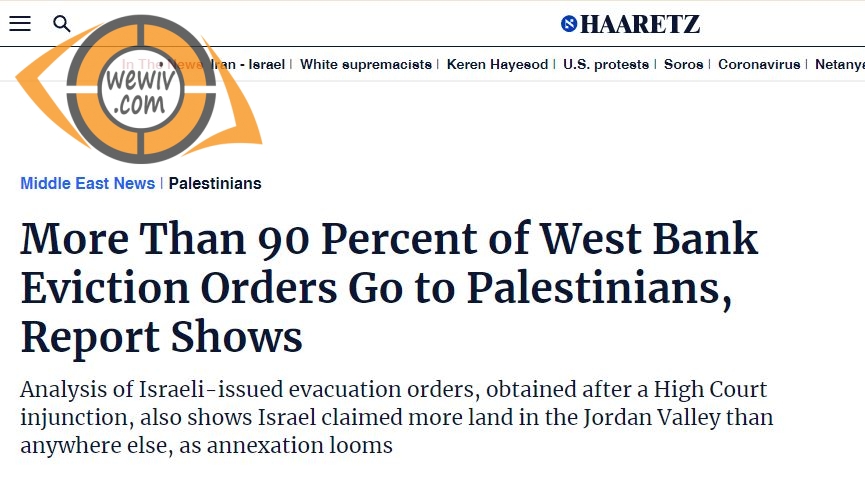 A new report by Israeli NGOs showed that more than 90% of eviction orders issued by Israel goes to Palestinians.
The data, which spans from 2005 through 2018, also shows that Israel evacuated people from more land in the Jordan Valley than any other region.
The report, entitled "National Calamity" is due to be released next week "Kerem Navot", an Israeli human rights organization. It looks at 670 evacuation orders obtained following two freedom of information requests.
The largest amount of territory subject to evacuations was in the Jordan Valley, where inhabitants were evicted from some 5,000 out of 12,500 dunams of land.
Some 222 eviction orders were issued in the Bethlehem area, 169 in Hebron and 83 in the Jordan Valley. Ninety-one percent of the orders were issued to Palestinians.
In 2018, Haaretz reported that only 0.25% of state land was allocated to Palestinians since 1967. In effect, this means that nearly all Palestinian construction on state land is regarded as illegal.
Currently some 1.2 million dunams of West Bank land in Area C is considered state land.
The report says that among all eviction orders, not any order has been given to settlers in the Jordan Valley.