On 18-5-2021, Monitoring cameras documents moments in which occupation police targeted a house owned by Al-Kiswani family in the neighborhood of Sheikh Jarrah in the occupied Jerusalem using rubber bullets and tear gas. The girl Jana Kiswani 16-year-old was wounded with a rubber bullet in the back while being in her house.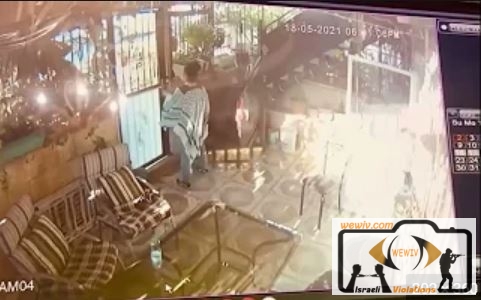 The family said that "the situation was calm without any protests when the occupation police stormed the neighborhood. Soldiers opened fire toward the house directly without any reason, leading to the injury of the child Jana".
suffered a spinal fracture, to be a live souvenir for tensions and violence faced by them while Israel was seeking to evacuate 8 Palestinian families from their houses which settlers claim their ownership".
From her side, the child Jana said to Reuters "I did not do anything, I didn't carry a stone and said nothing at all. Police didn't have the right to shoot me. If I don't find safety in my house, then where is safety!?"
[embedyt] https://www.youtube.com/watch?v=ppok_pbfuik[/embedyt]