At around 3 am on Friday, December 17, 2021, The Palestinian citizen Wael Muqbil, 62 years old, in Qaryut town, south of Nablus, woke up to a violent beating on the door of his house, and voices from behind the door calling, "Open the door, Israeli army."
Wael opened the door of the house, but he was surprised that more than thirty settlers stormed his house. They surprised him with pepper gas spray in his eyes and beat him severely with stones and sticks, before dragging him into the yard of the house.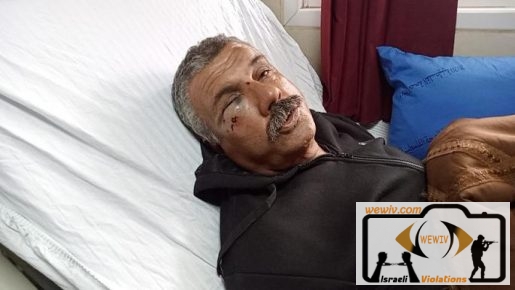 What happened to Wael's house was like an earthquake, as settlers destroyed the entire contents of the house, while his wife took shelter in a room in the house and called for help from the people of the town.
Surveillance cameras showed more than thirty settlers, some of them wearing Israeli army uniforms. They destroyed a vehicle and two tractors, and smashed the windows of Wael's brother's house.
The settlers destroyed the camera recording device in the house in an attempt to conceal their crime, but the residents were able to recover the recordings that showed the ugliness of the crime committed by the settlers.