The toys of the Palestinian child Alaa Abdullah Qadoum (5 years) didn't protect her from the Israeli blind airstrikes that killed her in front of her house in the area of Al-Shujaeyah near Gaza, in the first moments of the Israeli aggression on Gaza on Friday 5 August 2022.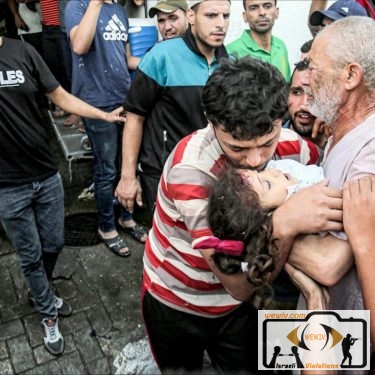 Alaa was killed immediately after a rocket parts wounded her head, chest and right leg, cording to Mohammed Abu Salmeyah, Director of Al-Shifaa hospital.
The child's grandfather was so sad, Reyad Qadoum, who seemed confused saying:
"What a guilt this small angel was killed for! who was planning to join a kindergarten".
Her cousin, Abu Diab Qaddoum, told Middle East Eye:
"Alaa was an innocent five-year-old girl playing in the street with her brothers and cousins. What did you do to get killed?"
One of the neighbors said about the event: "In the afternoon hours, children gathered to play and have fun in front of their homes in the Shejaiya neighborhood, which is crowded with children, they were surprised by the Israeli bombing after the afternoon prayer, which left in the first moments a number of martyrs and a number of injuries.
He added, while exploring the place of the bombing which has the blood of the child on the walls and ground "that the occupation forces bombed the residential area with two consecutive rockets, regarding the crowded residents". He also said "what the risk or harm that the child Alaa constituted on the occupation state which has all types of modern and heavy weapons".
Statistics indicate to the death of 315 children during the Israeli aggression on Gaza in 2009, and 546 children during the aggression in 2014, and 66 children during the past aggression in 2021″.
While the child Alaa was martyred,   the number of child martyrs in Palestine rose to 2230 martyrs.