A far-right member of the Israeli Knesset (Itamar Ben Gvir) attacks Palestinians in Sheikh Jarrah neighborhood in occupied Jerusalem, along with settler gangs.
The terrorist Knesset member Ben Gvir attacks the Palestinians, pointing his gun.
This is a real model for the Israeli politicians who represent the Israeli political system that adopts terrorism and using violence and enjoys political support and military protection from the occupation army and police.
And here, after Ben Gvir had finished practicing his terror against the Palestinians in occupied Jerusalem, he went to his Twitter account to publish ostentatiously about how he raises his children on violence and bearing arms.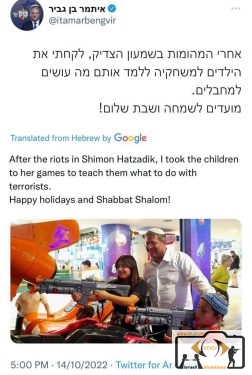 Do the United States and the West see this? Or they don't care?
It is a state terrorism that the world must stop.