The occupation always claims that the Palestinians study violence in their curricula, because the Palestinians study the history of their land occupied by Israel, and mention historical facts of a human tragedy that exceeds 70 years of occupation.
As for when we find that (the citizenship book for the fourth grade), in the "Yehuda Maccabi" public school in Tel Aviv. In one of the lessons, Moriah and Shilo, who are from Ofra settlement, explain:
We love "our settlement even though it is far away," and they say that it is a continuation of the "generation of the wall and the tower," and that settlement (in the settlements) is firmly established in the (Bible) of the Jews, and of course it is more important than (the rights of the Palestinians).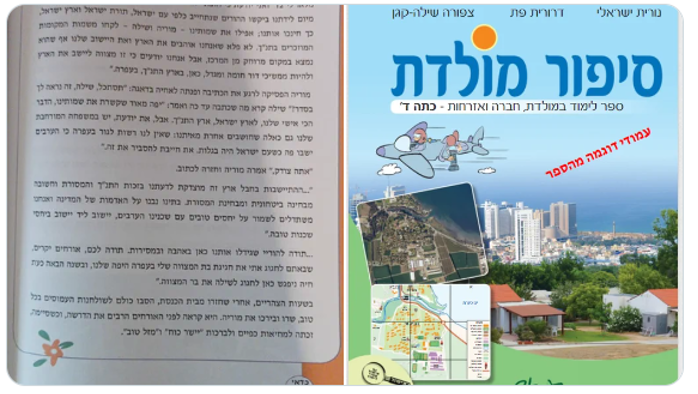 This is the real terrorism that is planted in the minds of these students (who came from Western or Eastern Europe or from anywhere else in the world…); That their presence in the settlements that are being built on Palestinian lands is more important than the rights of the Palestinians.
And in the same book from "The Story of Molland". The story of (Eleishma and Hodia) as they live in one of the illegal settlement outposts that are located on private Palestinian land, where they mention in their story: how the hilltop youth set fire to a Palestinian village on its inhabitants, how they threw stones at the homes of the Palestinians under the guard of the army, and how they took the lands of the Palestinians.
This represents the manufacture of extremist ideology and the creation of terrorists that will inevitably join one of the terrorist organizations of the settlers, such as the hilltop boys or the price tag.