The Israeli government Attorney General, Avihai Mandelblit, is paving the way to legitimize 13 settlement outposts built on privately owned land for Palestinians in the West Bank. The legal recommendation he presented approved the confiscation of Palestinian land for public purposes and paving roads for the settlements, and that will allow for legitimization of settlement outposts.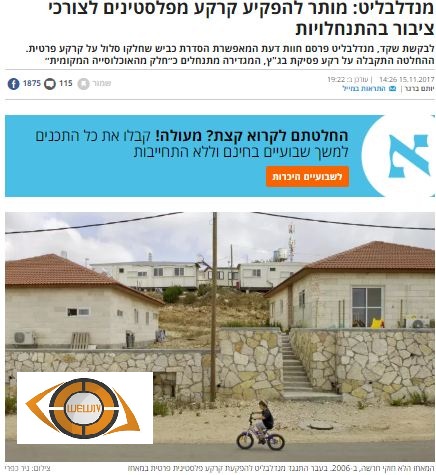 The essence of Mandelblit's legal recommendation is to assert that it is possible to confiscate private Palestinian land for constructing roads, even if only for the benefit of the settlers.
Mandelblit, who approved the expropriation of land for constructing roads for settlers, paved the way to legitimize the outpost.
The legal recommendation of the attorney general comes weeks after the Israeli Supreme Court issued a verdict allowing settlers to seize private Palestinian land, claiming to be "part of the local population" in the occupied West Bank.
Haaretz newspaper pointed to the existence of a group of settlement outposts, which will be approved according to the limited interpretation of the opinion submitted by Mandelbelt last week. Experts in this area say that the implications of this verdict may go further.
According to Dror Etkes of Kerem Navot, if the roads are constructe, the state will try to claim that illegal buildings on Palestinian land can also be approved.
"The clumsy attempt by Mandelblit to legitimize this vast system of land grabs reveals, as in the case of the Settlement Law, the extent to which the land belonging to the settlement enterprise is seized," Etkes said.