Israeli occupation army admitted that its soldiers shot an unarmed Palestinian boy after claiming that " his soldiers shot a Palestinian attempted to carry out a stabbing operation on 12-12-2017 near the settlement of Ariel".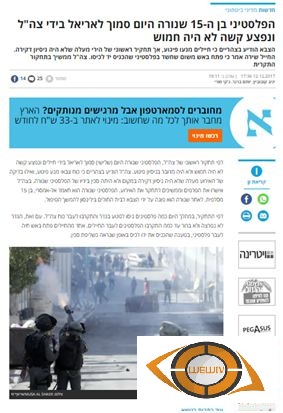 Haaretz newspaper said that Israeli army's investigation revealed that Ahmed al-Masri, a 15-year-old Palestinian from the town of Salfit, who was shot by a soldier near the settlement of Ariel in the West Bank and seriously wounded, was not armed and did not try to carry out an attack.
Spokesman of the Israeli occupation army said "The boy Ahmed Masri didn't possess a knife", and pointed out that the boy inserted his hand to his pocket in a way that indicates to the willingness of holding a knife.