The newspaper Ha'aretz reported that the so-called Central Court in occupied Jerusalem adopted on Monday 17/9/2018, for the first time, the racist (National Law) in order to determine compensation. According to the newspaper, Judge Moshe Drori, known for his right-wing positions, ruled that a Jewish man injured in an attack has the right to additional compensation, even without a proof of hurts, based on the clause that "the state will work for the safety of the Jewish people.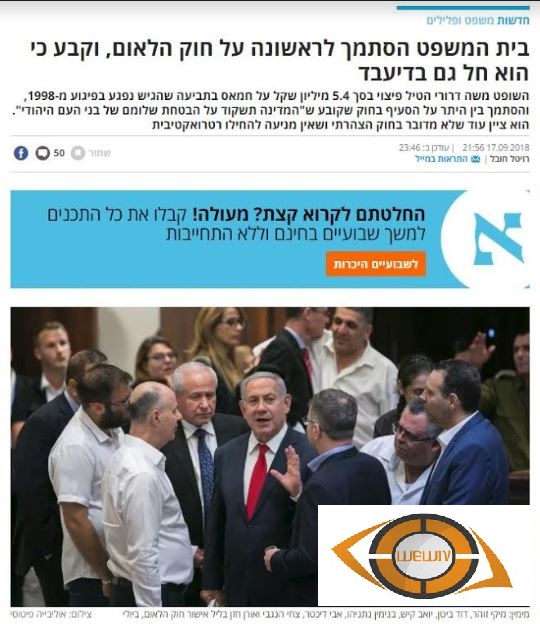 " Drury decided that Hamas should be forced to pay NIS 5.4 million in compensation to complainant David Mashiah and his family. Claiming that he was injured when he was 28 years old because of an explosive device and filed the suit in 2007.
Judge Drury, 69, known with his controversial provisions that tend to the right side of the political map.
Of his previous decisions:
His decision to acquit a student at a religious school ran over an Israeli citizen of Ethiopian origin. Drury acquitted the student, who had been a candidate for appointment as a judge at the religious court, so as not to affect the chances of his appointment.
Former Attorney General, Nurit Litman, has complained of a series of racist remarks made by Drury against an Arab prosecutor.
Drury refrained from condemning a 15-year-old Jewish boy for throwing a Molotov cocktail and stones at Arab cars, citing that he took into consideration the shock that the boy suffered from when one of his colleagues was kidnapped