Israeli security minister Neftalle  Benet cancelled on Tuesday 11-2-2020 an administrative arrest order against an extremist settler suspected of being involved in a terrorist attack against Palestinians, before 9 days, when he targeted a vehicle driven by a Palestinian, which caused injuries in his head.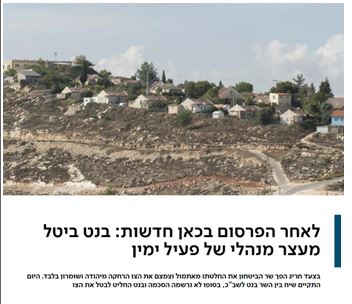 Israeli Broadcasting Body (Kan) said that Benet signed on Monday 10-2-2020 a one-month administrative arrest order against the terrorist settler (Elyahui Bin David) before cancelling it in the following day.
According to Kan, Shabak officials told the minister Benet that "Elyahu Bin David" have committed violent attacks against Palestinian, and that he is a violent extremist,
It is worth mentioning that occupation authorities arrest about 400 Palestinians according to administrative detention (without charges).