In a political aggressive usual practice by the state of occupation, Israeli minister of Finance Avigdor Liberman,  head of Israel Beitna party, said on his Facebook account commenting on the decision of UN Human Rights Committee about the journalist Abu Aqleh "I don't know on which investigation the UN committee decided that Aljazeera journalist was shot dead by IOF, It is a despicable decision that can't be accepted".
He added saying "Israel proposed solutions that would end this incident but we are not wondering that the other side was not ready for cooperation. Their considerations are strange and I don't' mind".
He also said "IOF must continue to act when it knows that it is protected by a whole political backup".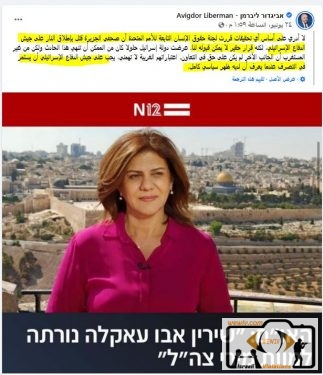 The UN Human Rights Office published a report on 25 June 2022 saying "We have concluded our independent monitoring into the incident. All information we have gathered – including official information from the Israeli military and the Palestinian Attorney-General – is consistent with the finding that the shots that killed Abu Akleh and injured her colleague Ali Sammoudi came from Israeli Security Forces and not from indiscriminate firing by armed Palestinians, as initially claimed by Israeli authorities. We have found no information suggesting that there was activity by armed Palestinians in the immediate vicinity of the journalists".
Knesset member Merav Ben Ari: I do not feel sorry for the killing of Shirin Abu Akleh
The statement issued by Liverman commenting on the decision of the HUN Committee is not only representing the values held by him, but also represents the party that rules Israel. These values don't hold any principles that respect human rights, even such a journalist holds the U.S citizenship that sees the occupations a extremist that must leave.