The Israeli occupation government supports, finances, protects, enhances and allocates land and pretends to be ignorant of dozens of settlement outposts, which use violence as a model for forcibly transferring Palestinians from large parts of the West Bank.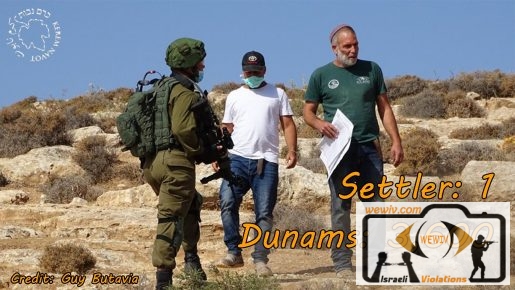 One example of those who are lucky is the one to whom, the occupation government suddenly decided, without warning, to give 3600 dunums of land for free (Palestinian lands). He is the settler (Yehoshaphat Tor) whom the occupation government granted 3600 dunams of Yatta lands, south of Hebron.
The outposts described as agricultural in the occupied West Bank have become in recent years the most intense and violent outposts of settler terrorism. One of the most extreme of these hotspots is the "Havat Maon" outpost. The settler Yehoshaphat Tor is considered one of its founders.
The settlement (Havat Ma'on) was established as a front position for the Nahal Brigade of the Israeli army in the early 1980s on the land of Yatta, south of Hebron, as it was seized under the pretext of "security needs".
After the outpost was transferred to civilian use in 1982, the Israeli occupation authorities declared most of the settlement's area as "state land". More than 4,000 dunams of land confiscated by Israel from the residents of Yatta and its villages were transferred to Ma'on settlers, where to this day, more than forty years after its establishment, only about 600 settlers live. But 4,000 dunams were not enough for the residents of this extreme settlement.
In the late 1990s, a number of young men arrived from Kiryat Arba settlement, and began to take over areas that were about one and a half kilometers southeast of the settlement at that time – in an area declared as a firing zone by Israel. One of those people was the settler (Yehhoshavt Tor), who was in his late twenties at the time. In 2020, an additional outpost was established north of Ma'on settlement by a settler named Yischar Man, a former neighbor of the settler (Tor) from Havat Maon. Thus, the award, which the Israeli occupation government gives Tor every year for free, was divided between two men involved to the head in a systematic and ongoing violation of Palestinian rights with the support and protection of the occupying government.