Late on Tuesday, local sources announced on Tuesday 9-8-2022 that the citizen Ibrahim Shehda Abu Salah, from the town of Beet Hanoun, north of Gaza, had succumbed to his wounds by an Israeli airstrike on Saturday 6-8-2022.
The masses who attended the funeral of the martyr Ibrahim Salah heard screaming of his son Musaab, as well as the sound of bombardments which stole his family.
(We are you going dad?) were the words repeated with sadness by Musaab because he has lost his father. These words express the language of sufferance inside his weak body .. scream and fear about his coming future as a result of his father loss.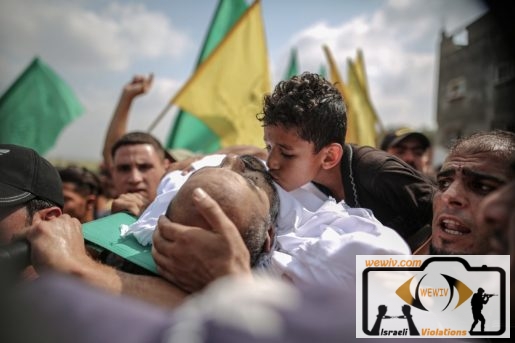 The attendant people carried the child Musaab on their shoulders during his father's funeral, but his eye blinked only with pain and fear, because of the painful farewell glances, who will replace the father?
The is what Gaza suffers in every Israeli aggression, pain in every heart, sufferance that may not end and stay in memory.
The painful stories of our children in Gaza prove that the war kills survivors in various means.