In a country that claims to be the only democracy in the middle east, Wife of the extremist MK Itmar Ben Ghafir, who is to be a minister in the upcoming Netanyahu government, Eyala, appeared while carrying a gun during her attendance in a meeting with wives of the coalition leaders n a "Waldorf Astoria" hotel in the occupied Jerusalem.
After media had a controversy about the picture, Eyala Ben Ghafir reacted saying the she does not pay attention to what is being said "I don't understand why many were surprised seeing the gun I was carrying? I have the gun since 7 years and I don't go out without it, a lot of people know that and I am a Jewish".
She posted on Twitter saying "I live in Hebron .. married to one of the most threatening men in the country .. yes . I have a gun".
גרה בחברון, אמא לשישה מתוקים ונוסעת בכבישים מוכי טרור ונשואה לבעלי שהוא האיש המאויים במדינה, וכן, יש לי אקדח. תתמודדו

— אילה בן גביר (@ayalabengvir) November 14, 2022
Ben Ghafir himself has faced much criticism for appearing with a gun on several occasions over the past year, including using a gun last December during an argument with some Arabs who asked him to remove his car from a restricted area in Tel Aviv.
عضو الكنيست إيتمار بن جفير يشهر السلاح و يهدد شبان فلسطينين بموقف مجمع في "تل أبيب"#فريق_مجاهدون pic.twitter.com/Zx0NMd7zfI

— انتاج || جيش فلسطين الإلكتروني PEA 🇵🇸 (@PalestineEArmy1) December 22, 2021
Also, Ben Ghafir had previously used a gun and threatened the Palestinians with it in the Sheikh Jarrah neighborhood in Jerusalem last month.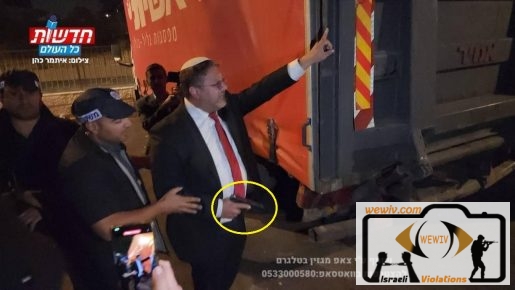 Eyala posted the picture on twitter again and wrote "even during the vacation, we see Itmar on the screen, less being in the house, because of public activities. I don't feel loss but proud. thank you Itmar for collecting Israeli Fund and returning home, your breakfast you left here is waiting for you".
אפילו בחג אנחנו רואים את איתמר בעיקר במסך ופחות בבית, בגלל פעילותו הציבורית. לא מרגישה הפסד אלא בעיקר גאווה. תודה איתמר שאתה מרים את קרן ישראל ובוא הביתה, מחכה לך כאן ארוחת הבוקר שהשארת… https://t.co/hCTcyuwT00

— אילה בן גביר (@ayalabengvir) October 13, 2022
During his youth, more than 50 indictments were leveled against him regarding violence and hatred crimes.
This racist and extremist model does not constitute an individual case only, but rather represents a major trend in the Israeli society, which voted in the recent Israeli Knesset elections in favor of the Israeli extreme right, and helped Netanyahu, Ben Ghafir, and Smotrich to form a right-wing government coalition.