Pierbattista Pizzaballa, the region's chief Catholic clergyman, says that Jewish extremists feel emboldened by the presence of representatives in power, leading to an escalation of attacks on Christians.
The head of the Roman Catholic Church in the Holy Land warned in an interview that the rise to power of Benjamin Netanyahu's far-right government has made life worse for Christians in the birthplace of Christianity.
The Latin Patriarch, Pizzaballa, told The Associated Press that the Christian community, whose presence in the region dates back 2,000 years, is under increasing attack, as the most right-wing government in Israel's history has made extremists, who harass clerics and assault religious property at an accelerating pace, more daring.
"These people feel that they are protected … and that the cultural and political climate now can justify or tolerate actions against Christians," Pizzaballa said.
Netanyahu's far-right government now includes settler leaders in key positions — such as Finance Minister Bezalel Smotrich and National Security Minister Itamar Ben Gvir, who received criminal convictions in 2007 for inciting anti-Arab racism and supporting an ultra-Orthodox group.
Father Don Bender, a priest at St. George's Anglican Cathedral in Jerusalem, says, "The right-wing elements seek to Judaize the Old City, and we don't feel that there is anything to prevent them from advancing now. The churches were the main stumbling block."
2023 is poised to be the worst year for Christians in a decade, according to Youssef Daher of the Jerusalem Center for Church Relations, a group that coordinates Christian denominations.
In February, a devout American Jew grabbed a 10-meter-high statue of Jesus Christ from its base and smashed it to the ground, striking the statue's face with a hammer dozens of times in the Church of the Imprisonment of Christ located on the Via Dolorosa, shouting, "There are no idols in the Holy City of Jerusalem!"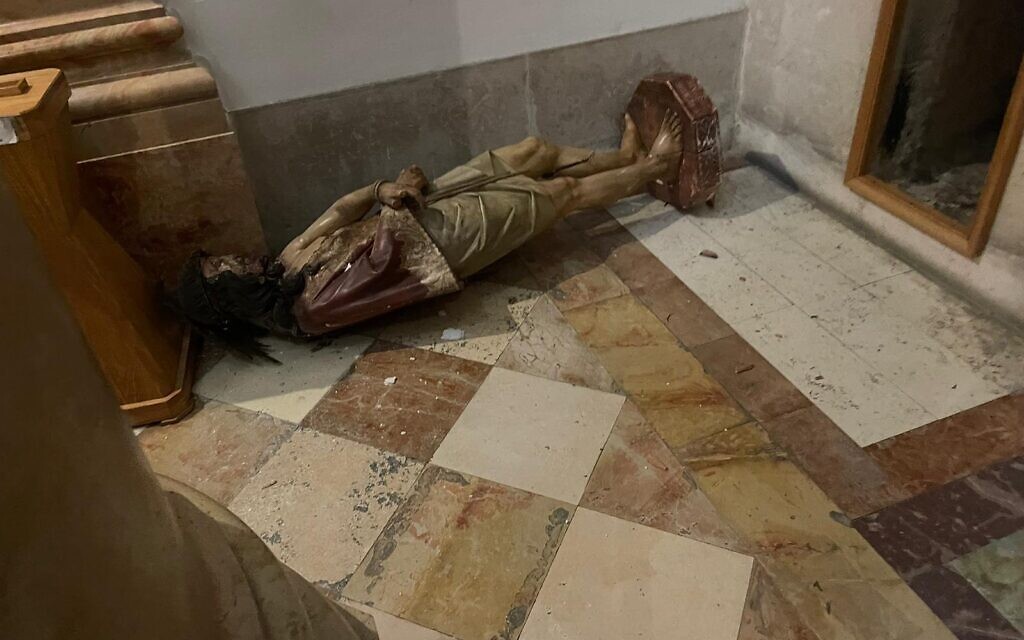 Armenians found offensive graffiti on the walls of their monastery. Priests of all denominations say they were chased, spat on and beaten as they walked to church. In January, religious Jews smashed and desecrated 30 graves marked with stone crosses in the city's historic Christian cemetery. Two minors were arrested and charged with causing damage and insulting religion.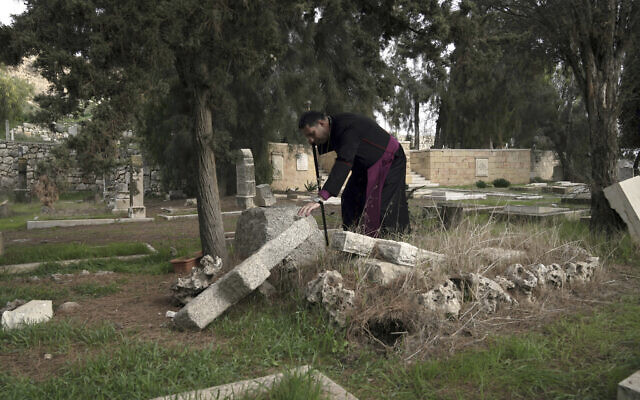 Bishop Sani Ibrahim Azar of the Evangelical Lutheran Church in Jerusalem says that these days he finds it difficult to give answers when his parishioners ask him why they should bear the bitter price of living in the Holy Land. "There are things that make us anxious about our very existence," he said. But without hope, more of us will leave."