In an unprecedented Judiciary case, and for the first time, Israeli court uses what is so called "Market Management Article" in its judgment.
The Israeli occupation central Court in Jerusalem, in an unprecedented judiciary case, ruled today that the settlement outpost of "Metsabeh Karmem" which is built on private Palestinian land in 1999, will not be evacuated.  Judge Arnon Dariel decided that the outpost was "built in good faith on land allocated by the state" and therefore the state is obligated to defend the rights of its residents.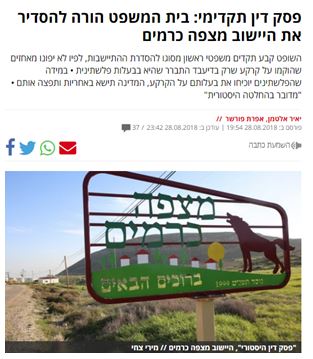 This judgment came after minister of Israeli judiciary Elit Shaked made efforts since months to urge the state to recognize article 5 (market management). before month and a half, Israeli government introduced its position which includes article 5, and then approved by the court.
On Wednesday morning, Knesset members and ministers of the Israeli government welcomed the decision of the Central Court. The welcome ws not only about the court's decision, but also about the importance of removing powers from the Supreme Court and preventing it from deliberating on Palestinian petitions.
MK Nissan Slomiansky of the "Jewish Bayt" bloc said that "the central court worth respect because it activated an article that the high court didn't activate. and therefore, we are avoiding demolishing settlements and houses. he also considered this an indication to legitimizing a larger number of settlements and neighborhoods.
Yoli Adlestiain, MK speaker, said that "the determination of settlements of Matsabeh Karmem proved itsel."
Minister of Israeli judiciary, said yesterday that "the central court clearly says that anyone who settlers in a good faith will not be evacuated". she also added that "suppression against the two evacuated settlements of Amona and Ntevi Avot will not be repeated".